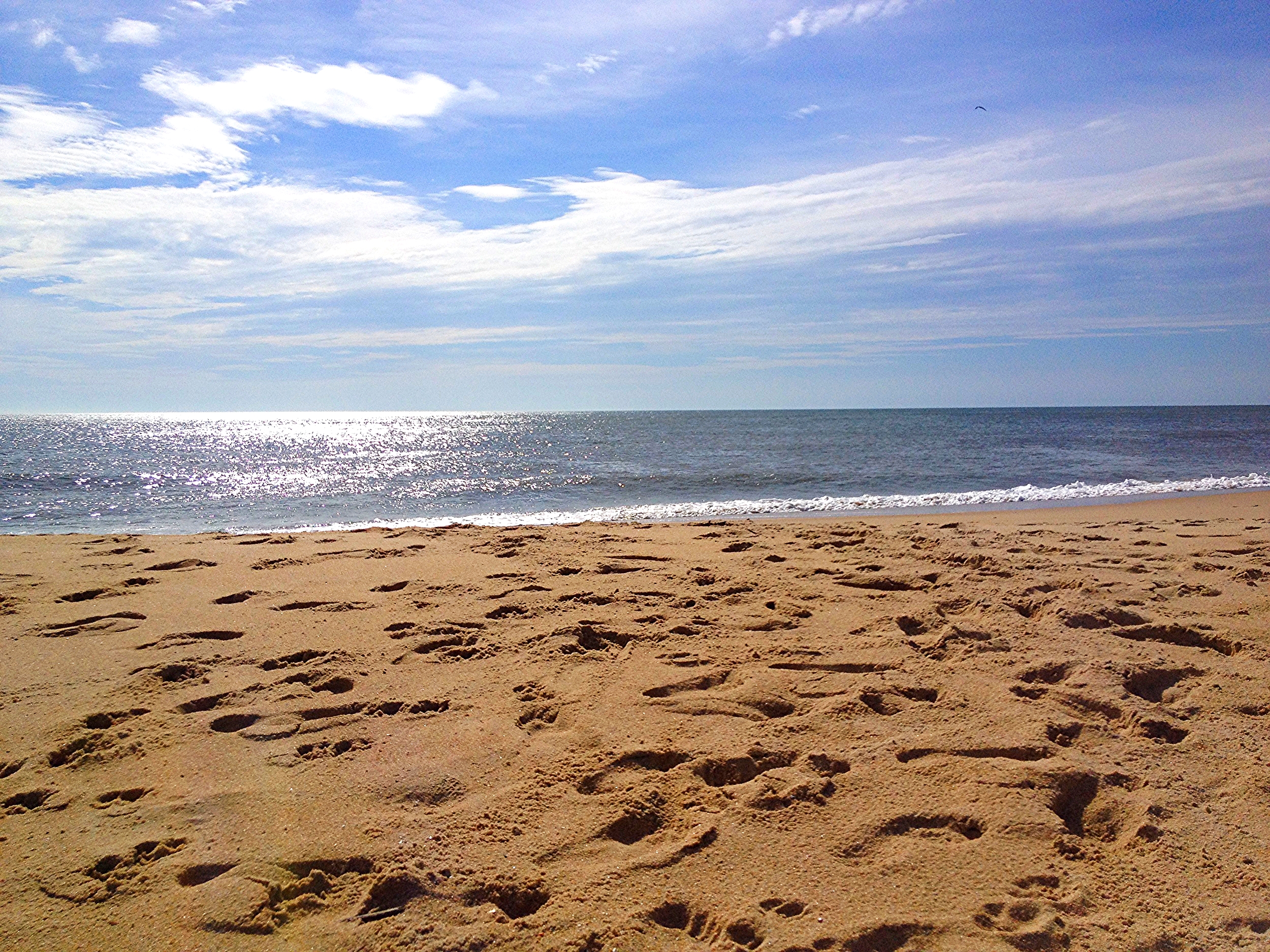 Dewey Getaway
227 Swedes Street, Dewey Beach, DE
Dog Friendly Beach House
This Dewey Beach rental home has everything you need for a relaxing, stress free vacation. All just 2 blocks to the beach.
This well-maintained, spacious 3 BR, 2.5 BA end unit town house is ready to be your vacation home away from home at the beach. Enjoy the ocean and bay breezes from the sunny kitchen, comfortable living room or the private deck. This rental is dog friendly so all you leave at home is your worries!
Once you park your car, you may not use it until you leave! Everything Dewey has to offer is within walking distance - two blocks to the beautiful beach and just one block to Dewey bars and restaurants. Catch the Jolley Trolley to downtown Rehoboth Beach for great shopping and more nightlife and fabulous restaurants.
Or stop at the the tax-free shopping outlets just a 5 minute drive away. Visit the beautiful, undeveloped Delaware Seashore State Park for fishing, swimming, kayaking, paddle boarding, sailing or just sitting in the sun. Or spend the day on the greens at one of the many close-by golf courses.
GET A PRICE QUOTE:
CONTACT US
DeweyGetaway@gmail.com
302-404-3755
Location
227 Swedes Street
Dewey Beach, DE
owners
Anne + Bill
End Unit Townhome – Sleeps 9 people.
Private Rear Deck with Gas Grill – Enjoy drinks and dinner with seating for up to 10.
High Speed Internet – Look up all the great attractions or restaurants in the area. Have to work? With high-speed wifi, you can take the laptop on the deck.
Laundry – Brand new full size washer + dryer so you can pack light + keep those beach towels dry!
2 Blocks to Ocean – Plus Bay access just 1 block away and walk to all Dewey has to offer.
Beach Gear + Outdoor Shower – Beach towels, chairs, umbrellas and even a rolling cart are provided! Outdoor shower is perfect for rinsing off after a swim.
Parking - Two reserved parking spaces directly in front of home + one on-street parking pass provided.
Master Bedroom – New (June '15) King bed in large master bedroom with huge walk-in closet and ensuite bathroom.
Bedroom 2 –1 full and 1 twin bed plus plenty of storage.
Bedroom 3 – 1 full and 2 twin beds plus plenty of storage.
Master Bathroom – Renovated June '16 - Ensuite full bathroom with tub + shower offers convenience and privacy.
Guest Bath – Full bathroom with tub + shower directly across hall from bedrooms 2 & 3.
Half Bath – New May '17 - 1st floor half bath.
Fully Equipped Kitchen – Kitchen has everything you need to cook a full meal - or a quick breakfast. New (June '15) dishwasher, microwave, toaster oven, coffee maker and blender.
Multiple Dining Areas – Have breakfast in the bright and airy kitchen dining room or breakfast bar. Get the whole group together in the spacious main dining room. Or dine al fresco on the large deck with gas grill.
Relax in Comfort – Newly furnished for 2018, the living room features ultra-comfortable seating for eight. Open to the dining room, kitchen + deck.
Entertainment – Watch your favorite shows or movies on the new (2018) 50" 4K smart TV with cable (including HBO), all of your favorite streaming services, and a DVD player.
Dogs Welcome
What vacation would be complete without your best friend? It's tough to find a nice, clean beach rental that allows dogs. We not only allow dogs, we welcome them! You won't find a more dog friendly beach rental. Bring up to two well-behaved, non-marking dogs with you.
Dewey is the most dog friendly beach on the coast. In season, dogs are allowed on the Dewey Beach before 9:30 am and after 5:30 pm. It's a dog's beach between September 15 and May 15! With dogs allowed on the beach any time off season, your pup will enjoy the sand between her toes, romping in the surf and making new friends. And several restaurants with outdoor seating welcome dogs.
The nearby Delaware State Seashore allows dogs in non lifeguard areas all day any time of year. If your dog prefers calmer waters, bay access is just 1 block from the house.
Dogs must be up-t0-date on all vaccines and be on regular flea and tick preventative. When left unattended, dogs must be crated. In addition to food and water bowls, we provide one large crate for your convenience. We also provide three baby gates for human and furry children. One is great for the deck so your dog can enjoy relaxing outside with you.
Whether you're coming for a week's vacation or last-minute weekend getaway, don't leave your dog at home. We offer a warm welcome for dogs (and their humans) traveling to Dewey Beach for Dewey's Golden Jubilee, Bark on the Boards and Greyhounds Reach the Beach (GRTB) and other Dewey dog events!
See "Rates" for dog fees. Check our Calendar for availability.
Beach Rental Rates + Fees
Book today for Summer 2018! Or choose your dates for Fall 2018.
Whenever you come, our Delaware beach vacation rental is exactly what you need.
Save hundreds by booking Dewey Getaway!
Book direct to avoid VRBO, HomeAway, Airbnb booking fees = 6-12% savings
We do not charge guests dewey beach rental tax = 3% savings
repeat guests receive discount on current rates = 5% savings
Weekly Vacation Rentals
SEPTEMBER*
2 night minimum or discounted week
$275 per night or $1,900 per week
OCTOBER, NOVEMBER*
7 nights
$1,650 ($250 per night for shorter non-weekend stays)
* Excludes holiday weeks. Inquire for off-season holiday rates.
Thanksgiving
7 nights
$2,000 ($250/night except November 22-24 is $325/night)
DECEMBER - MARCH 10*
7 nights
$1,400 ($210 per night for shorter non-weekend stays)
CHRISTMAS
7 nights
$2,000 ($350/night Dec 21-23; $375/night Dec 24-26)
MARCH 10-18
7 nights, includes St. Patrick's Day weekend
$2,400 ($250 per night for shorter non-weekend stays)
MARCH 18 - April 1
7 nights
$1,550 ($250 per night for shorter non-weekend stays)
April, May*
7 nights
$1,750 ($285 per night for shorter non-weekend stays)
Early Summer (May 27-June 16)
3 night minimum or discounted week
$2,100 ($350 per night for shorter non-weekend stays)
Summer (June 16 - August 25)*
weekly rentals only / 7 night minimum / Sunday - Sunday
$2,350 (excludes holidays; holiday weeks $3,000)
Fees
Cleaning
$140
refundable security deposit
security deposit may be higher for holiday weeks / weekends.
$450 ($800 for summer holiday weekends)
Weekend Getaways
SEPTEMBER*
2 night minimum / excludes Labor Day weekend
$350/weekend night; $275 per additional night
OCTOBER, NOVEMBER*
2 night minimum /excludes Columbus Day weekend
$290/weekend night; $250 per additional night
* Excludes holiday weeks. Inquire for off-season holiday rates.
Thanksgiving
3 night minimum /weekend nights are Thurs, Fri, Sat
$325/weekend night; $250 per additional night
DECEMBER - MARCH 14*
2 night minimum
$250/weekend night (excludes holiday weekends)
CHRISTMAS
2 night minimum
$325/night December 21-23; $350/night December 24-26
MARCH 14-18
2 night minimum for St. Patrick's Day weekend
$600/weekend night; $250 per additional night
MARCH 18 - April 1
2 night minimum
$275/weekend night
april, may*
3 night minimum (excludes Memorial Day weekend)
$999 ($285 per additional night)
Early Summer (MAY 27-JUNE 16)
3 night minimum
$400/weekend night ($350 per additional night)
Summer holiday weekends
Memorial Day, Independence Day + Labor Day/3-4 night min
$1,950 for 3 nights ($400/additional night)
Dog fee
up to two dogs allowed - no other pets permitted
$150 first dog + $75 for an additional dog (if applicable)
we do not charge guests rental tax
LINEN SERVICE information available
Make a Reservation
What are you waiting for? To book direct and avoide HomeAway.com fees,
enter your dates below and click "Book direct" OR email us at deweygetaway@gmail.com.
NOTE: We encourage you to book directly through the website or by emailing us at deweygetaway.com. We provide the option to book via Homeaway because we understand that some guests prefer to book through an online travel agent site. Note that the service fee that HomeAway charges guests (8-15% of total rental price) is imposed by HomeAway over the objection of owners like us. We do not receive any of this fee and you do not receive anything for it. Avoid the service fee by emailing us or making your reservation via our booking form on the left.